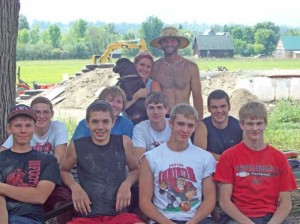 The Groton Varsity Football team came out to the DeVoes' to help build last Saturday. Front Row: Tony Goodsell, Nathan Ossit, Daymin Eldred, Darren Ostrander. Back Row: Michael Perkins, Kyle Chrismer, Tristin Cooper, Zack Ossit. Standing: Courtney and Chad DeVoe
Freeville newlyweds Chad and Courtney DeVoe developed a vision of their dream house about three years ago. A seed was planted to marry this dream with their love of the planet earth after viewing the documentary "Garbage Warrior," the story of New Mexico architect (or biotect) Michael Reynold's dedication to designing and advocation of earthships. Courtney recalls,"We both love and appreciate nature. After watching the documentary about earthships called 'Garbage Warrior,' we realized how independent and efficient earthships really are. If in the future the power in Ithaca goes out for a month, people will be begging to come stay with us. If our wells are tainted by fracking, people will want our filtered rainwater. If stores are closed because of some disaster, we will have fresh food growing right in our 100 foot long greenhouse."
An earthship is a self sustaining home that is built out of natural and recyclable materials. Earthships have minimal reliance upon the traditional conduits to public utility pipelines and wiring in order to function. Used tires, bottles, cans and adobe are the some of the primary building materials. Electricity and heating is generated by solar power. The insulating properties of the adobe is harnessed to cool the living quarters in the summer. Rain water and snow melt is harvested and filtered for personal use, then to water plants, and finally for sewage.
In April 2012 the couple began construction of their 1700 square foot earthship on their four-acre plot in Freeville, NY. There will also be a 500 square foot greenhouse where they plan to grow fruits and vegetables year round. It will be one of only three such homes currently under construction the state of New York, while two more already exist in the state. They knew they would face unconventional challenges, but the importance of environmental prudence made it all worthwhile.
"Society doesn't seem to make our eco-system a priority. There is a minority of people who worry and strive to address issues like global warming, peak oil, and deforestation. The majority of people hope that everything will just end up okay, even though the way society's currently going is showing that it won't … The majority of our society's housing would definitely be more efficient if it were to adopt the principles of earthships, such as being oriented toward the south to use the sun for energy and heat, harvesting rainwater and using it multiple times, using the earth's natural temperature to help regulate the temperature in the house, and reusing materials for the building.
The tremendous support the DeVoes received from within and outside of the "green community" continues to be a pleasant surprise. When banks refused to finance the project they received financing from private lenders. Local building code officials have been helpful with the permitting processing.
"They were very accessible and accommodating in guiding us in the application of more conventional code requirements to such a unique construction project in order to remain in compliance … We are extremely grateful for the donations we've received. Freeville's Tile Tec International and Rochester's Best Tile donated discontinued/extra tiles and granite cut-offs. Dryden's A1 Restaurant, The Dryden Hotel, and Todi's as well as Ithaca's Mainesource have agreed to donate toward lunches for the 50 people who will be on the site for three weeks. We have an amazing network of friends, family, and coworkers who have helped immensely with the manual labor as well as tire, can, and bottle donations. What surprised us the most was the amount of people who heard about our project through word of mouth or on the Internet, strangers to us at first, who contacted us independently with interest of helping out in any way they can, whether it be coming and pounding tires, donating bedding for the crew members, or sharing our blog with friends and family across the country. Through this building, we have met many wonderful people of like mindset."
On Saturday August 11, 2012 Architect Michael Reynolds, owner of Earthship Biotecture and star of "Garbage Warrior", will begin supervision of a construction crew of over 50 employees and interns from the all over the United States and Canada on the DeVoe property in Freeville. The crew will continue work on the DeVoe's earthship for the next three weeks. They anticipate receiving a certificate of occupancy in late September this year.
Chad, a biology teacher at Groton High School, and Courtney, a special education teacher at Caroline Elementary School- also in Groton- both relish this opportunity as a teaching tools for the the interns. Thereafter, the DeVoes plan to continue advocating the necessity for attention to our environment and the ecological advantages of a "green" lifestyle once there earthship has landed. "Our next plan is to continue to educate the community as well as our own students in the schools in which we teach on sustainability and how we can interact with our planet in a positive, efficient way. We will be on the Tompkins County Green Homes Tour each fall. Chad hopes to begin a garden program in which students will use science, math, business ethics, technology, and writing to create and run a Community Supported Agriculture (CSA)."
You can follow the progress of the construction of the DeVoe's home and learn more about earthship ventures elsewhere at freevlilleearthship.blogspot.com.